SIKLU MULTIHAUL TG TERRAGRAPH CERTIFICATION TRAINING, HOSTED BY: DOUBLERADIUS INC.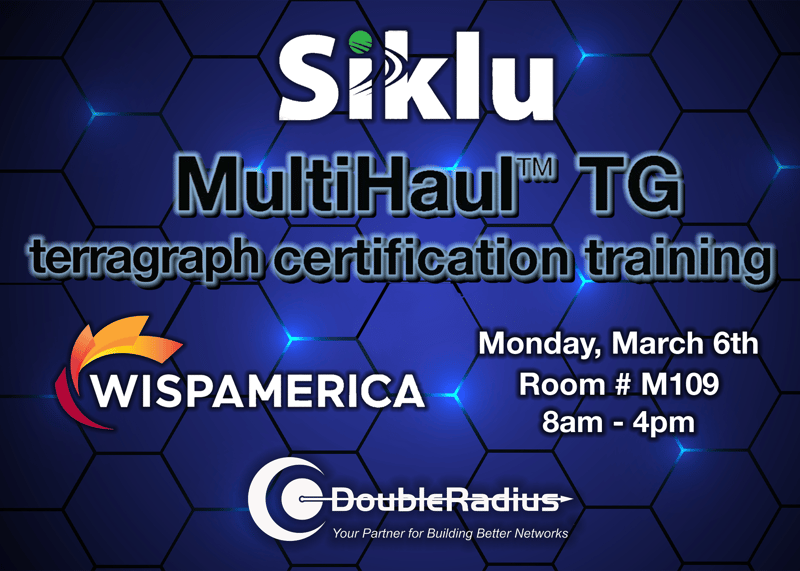 WISPAMERICA

, Louisville, kentucky -
March 6th, 2023
Siklu Director of Network Development will be providing comprehensive certification training on Siklu's award-winning MultiHaul TG solution.
TRAINING LOCATION
WispAmerica
Kentucky International Convention Center
Louisville, Kentucky
Room #m109
Lunch will be served.
Please email us with any dietary restrictions.
Training will include:
mmWave introduction
Overview of MultiHaul TG
Design considerations
Hands-on installation training
Setup and configuration
Maintenance practices & troubleshooting
Q&A
At the end of the course there will be a test and certificates will be presented.
AGenda
MORNING SESSION 8 AM – 12 PM



PREREQUISITE
If new to mmWave – contact Siklu Professional Services for additional materials
Review of Current Siklu Quick Start Guide



BRIEF SIKLU & MMWAVE INTRODUCTION
* Company, Positioning, Solutions, mmWave Technology
* mmWave Operational Characteristics
* E-Band 70 & 80 GHz Spectrum
* V-Band 60GHz Spectrum
TERRAGRAPH (TG) OVERVIEW
* TG Devices
* Definitions of TG Terms
* Overview of TG Operational Topology
* TG Network Planning & Documentation



TG INSTALLATION OVERVIEW
* Installation Process
* Multi-point
* Point-to-Point
* Mounting Sites
* Alignment
* Cabling & Grounding
* Bench Set-up & Software upgrades
* Documentation

NETWORK DESIGN –WINDE W/GOOGLE EARTH
(WIRELESS NETWORK DESIGN ENGINE)
* Setting up Sites & Elevations in Google Earth
* Concepts in Wireless Network Topologies
* A Comprehensive Wireless Design within WiNDE
* Overcoming Design Issues in WiNDE
* Using the LBC (Link Budget Calculator) with WiNDE

MANAGING THE RADIO
* Web Management Introduction & Command Line Interface (CLI)
* Radio Configuration Concept
* Configuration Flow
* NETCONF – YANG
* EMS (Element Management System)

TG RADIO SETTINGS
* RF Settings -Sector Frequency Planning
* GPS
* How to Set-up for Indoor Bench Testing
* RF Parameters – Polarity, Channels, Golay Codes
* Radio Ethernet, Bridges & VLANs

WRITTEN CERTIFICATION TEST




AFTERNOON SESSION 1 PM – 4 PM



SET UP & COMMISSIONING (HANDS-ON)
* Setup & Commissioning using the Web Management
* CLI Management
* Multi-Point
* Point-to-Point

MAINTENANCE PRACTICES
* Copying Files to & from the Radio
* Software & Configuration Update Scheduling

TROUBLESHOOTING
* Troubleshooting Steps

Q & A
Pricing
$100 to attend